DLM
MATRIX DISPLAY
LED Matrix Display for Logos, Symbols and Information Messages inside the service station or on the road.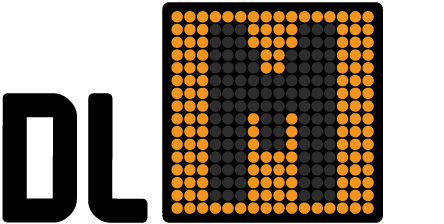 application
Application of Alphanumeric Displays in Column Price Indicators and Road Signs (Flag and Monolith Totem) are typically used in Service Stations. Logos, images and texts combined with price indicators, inserted along the top section of the canopies or on wall mounted signs.
COMPOSItion
The Graphic kit consists of: display, CPU unit, connection cables and suitable sized power supply units and a logo/image management system via Remote radio Control or PC software.

The modular kits vary depending on the number and type of cards used.

DLM Displays are normally supplied pre-assembled and pre-wired on Aluminium panels, in various sizes depending on the requirements and the type of matrix relative to the size of the graphic area.

The writing/texts/numbers/images are managed via remote radio control or software installed on a PC.
- Remote radio control: the contents are preloaded in the CPU during the production phase and selected on-site via remote radio control (the same used for the price indicators)
- Software: the contents are composed using a dedicated AGLA software to be installed on a local PC. The software allows users to write customised texts, insert images, select the type of display (fixed, scrolling etc. ) and create schedules.
features
AGLA provides multiple solutions thanks to the use of DLM matrices also in other areas of its specific competence.

The types of matrices are mainly divided by colour, by size, and by distance between pixels.
Using multiple DLM graphics cards it is possible to compose panels with different layouts and different sized graphic areas.
All mechanical solutions are agreed and designed to simplify product integration operations and generate cost savings.

AGLA proposes standard 16x48pc and 16x96pc kits as the most commonly used in this sector.
models
G310

G312

G315