KEY20
CONTROL KEYBOARD
20-key keyboard for automatic or manual management of DL displays on LED Price Indicators.
APPLICATION
It is possible to remotely or locally manage the display of prices, texts and images from inside the service station.
description
The KEY20 Keyboard was designed by AGLA to respond to the demand for remote management of price indicators.An on-board protocol converter installed on the KEY20 keyboard allows users to configure each price indicator in 3 different modes:
- Automatic: receives prices and logos/images (predefined) directly from an external data source
- Manual: prices and logos/images (predefined) are entered and selected "manually" at the Point of Sale
- Combined: prices and logos/images (predefined) can be partly received from an external source and partly entered manually.
FEATURES
The KEY20 keyboard consists of a 20-key membrane and a backlit 8-line LCD display. The standard kit also includes a Mini USB power supply unit.
KEY20 is equipped with:
- RS485 output for transmission to the Price Indicators
- RS232 and 1 RS485 input to communicate with the POS
- Mini USB input (for reprogramming or updating)
- Flash memory for data storage
KEY20 is able to interface with the following protocols:
- Gilbarco UNIDIR RS232
- Gilbarco ESTESO RS485
- Gilbarco ESTESO. 2 RS485
- Dresser WAYNE RS485
- Maser RS485
- Fortech 2. 0 RS485
- Tokheim KA RS232
- Dresser MARKETER RS232

The LCD display allows users to control and verify the data on the LED Price Indicator as a percentage of communication errors, faulty element readings, percentage of faulty LEDs, brightness level and much more.
models
- RADIO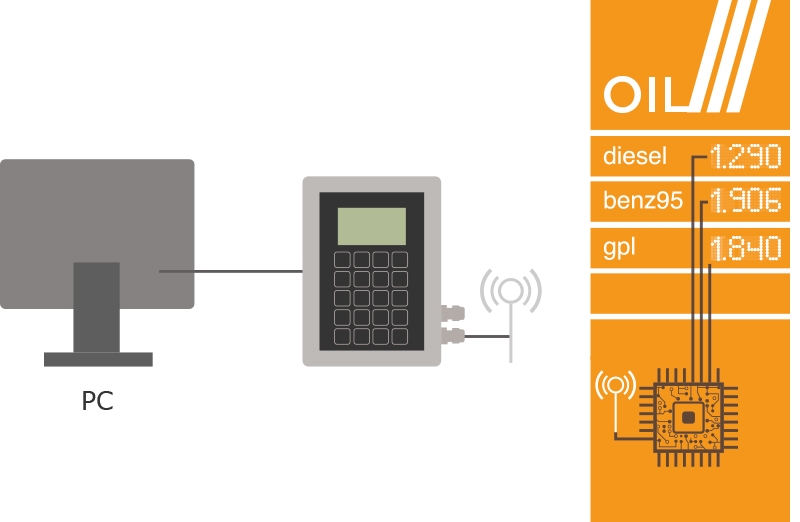 - WIRE